CLICK 'SHOP' TAB TO SEE ALL MERCH!
And don't forget to check out my Patreon for art tips, tricks, WIPS, timelapses and more!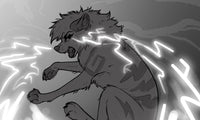 Thanks for Supporting My Art!
Click SHOP to see the rest of my MERCH!
If you want to continue to support me, consider checking out my Patreon, where I post art WIPs, tips/tricks, guides and more!
Patrons get dibs on merch and custom commissions from me! Thanks for stopping by my page and getting a little chaos in your life.